Line Of
Plantains
Our plantain chips were made to satisfy all taste buds with five different flavors to fall in love with. Starting with our Lemon Plantain Chips for a sour kick, Salted Plantains for a simple and delicious taste, Chile Lemon flavoured to add some spice to your day, Garlic Plantain Chips filled with tons of flavor and Sweet Plantains a.k.a Maduritos, a.k.a the most delicious chips you will ever try!

Products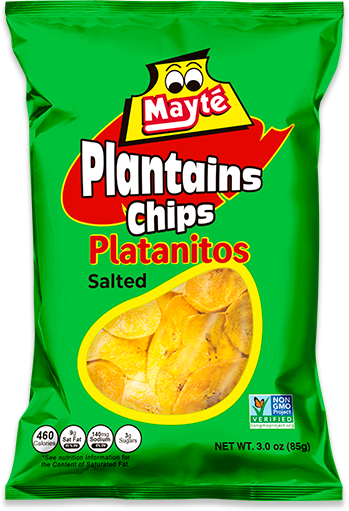 Plantain Chips
Salted
Description
Our salted plantain chips are everything you've ever wanted and more. If you love "less is more" than this is your go to snack. Simple ingredients, crunch in every bite and savory goodness!
Ingredients
Plantains
Vegetable Oil (Palm Oil)
Salt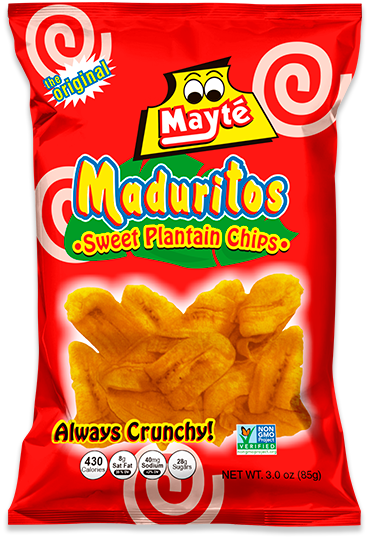 Maduritos
Sweet Plantain Chips
Description
Our first born… the man, the myth, the LEGEND. Mayte Maduritos is our pride and joy for being the NATURALLY sweetest plantain chips to walk the earth, all natural baby!
Ingredients
Ripe Plantains
Vegetable Oil (Palm Oil)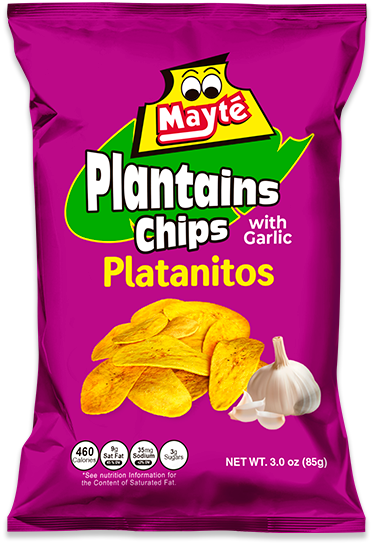 Plantain Chips
With Garlic
Description
Who doesn't love a little Garlic to add some more flavor? Mayte Garlic Plantain Chips are the next best thing you didn't see coming! Flavorful yet subtle, it leaves you wanting more.
Ingredients
Plantain
Vegetable Oil (Palm Oil)
Dried Garlic
Sea Salt
Natural Spices
Citric Acid E330 as a Flavour Enhancer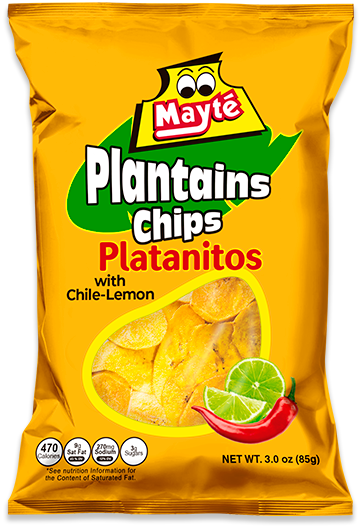 Plantain Chips
With Chile Lemon
Description
Looking for a little sour and spice but want everything nice? Mayte Chile-Lemon plantain chips has that kick we all are searching for and more! Packed with lots of flavor you'll definitely get a kick out of it.
Ingredients
Green Plantain
Vegetable Oil (Palm Olein)
Sugar
Lemon Flavor
Chili Powder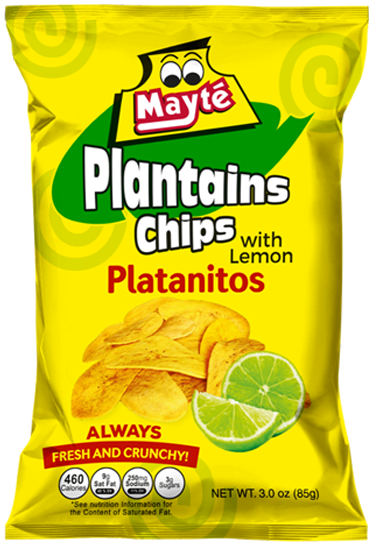 Plantain Chips
With Lemon
Description
Our Lemon Plantain Chips are the perfect definition of simplicity with a kick. It has the right amount of lemon flavor to enjoy it on it's own or eat alongside your favorite meal.
Ingredients
Green Plantains
Vegetable Oil (Palm Oil)
Lemon Flavor